Reports have recently begun to appear again in the Lebanese press regarding military activity by Hizbullah south of the Litani River, on the Lebanon-Israel border, in violation of UN Security Council Resolution 1701, and on the organization's increasing strength in the last few years, especially due to its military involvement in the Syria war. The Lebanese press reported, inter alia, that Hizbullah has tunnels on the Israeli border and that it possesses advanced weapons provided by Iran and Syria that disrupt the balance of power vis-à-vis Israel. It has also been reported that Hizbullah is cooperating with Hamas's military wing, the 'Izz Al-Din Al-Qassam Brigades.
The reports on Hizbullah's military activity in South Lebanon are corroborated by the organization's own statement, from January 17, 2017, that its operatives had found the wreckage of an Israeli drone that had crashed near the border two days earlier and were examining it "in a safe location."
The following are excerpts from the reports on Hizbullah's activity in south Lebanon: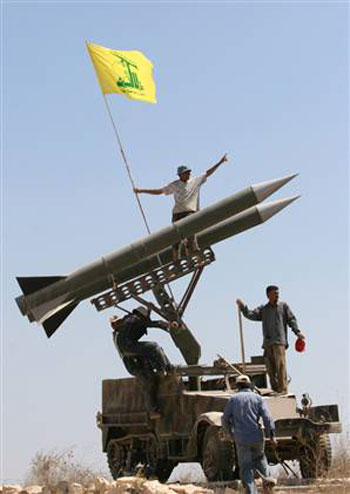 Image: Janoubia.com
Al-Akhbar Daily: Despite Israeli Airstrikes, Hundreds Of Convoys Transported Advanced Weapons To Hizbullah From Syria; Hizbullah Has 'Game-Changing' Weapons
Ibrahim Al-Amin, board chairman of the pro-Hizbullah Lebanese daily Al-Akhbar, wrote in a January 24, 2017 editorial that Hizbullah's military, security and intelligence capabilities have grown in the recent years. This, he said, is manifest in the organization's ability to lay down the rules of the confrontation with Israel; in the extensive and varied arsenal of weapons it possesses, provided by Syria and Iran, which includes 'game-changing' weapons; in its presence not only on the Lebanon-Israel border but on the Syria-Israel border; in its transformation into a major player in Syria, Iraq and Yemen which also has considerable influence in other locations and sensitive arenas in the Arab and Muslim world, and in its ongoing cooperation with Hamas's military wing. Amin implied that the Israeli assessment that Hizbullah is capable of firing 1,500 missiles a day underestimates the organization's true capabilities.
He wrote: "Reexamining the arena of direct confrontation [between Israel] and Hizbullah, we notice something that greatly worries the enemy's leadership: [that] the enemy has failed in his vigorous efforts to change the rules of the confrontation with the resistance [i.e., Hizbullah] along the border front. [Israel's] targeted killings of senior resistance operatives compelled Hizbullah's leadership to [present a] scale of increasingly harsh retaliatory measures, up to and including readiness to enter an all-out confrontation. This forced the enemy to avoid direct military action on Lebanese soil, including localized operations."
Comments
comments